Train could be moved after landslip on West Highland Line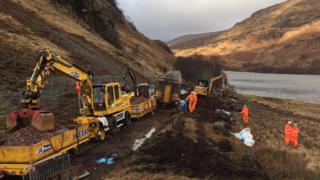 NetworkRail Scotland said it could soon be possible to move a train that was caught up in a landslip on the West Highland Line on Monday.
Five passengers were on board when the train came off the track early on Monday morning. No-one was injured.
The line is blocked at Loch Eilt between Arisaig and Glenfinnan and the ScotRail Alliance has said Fort William-Mallaig services will be suspended until further notice.
Engineers from NetworkRail Scotland are clearing tonnes of material to free the train and clear the line.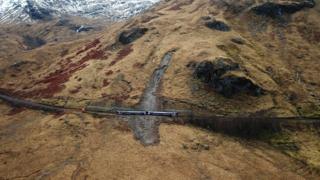 A spokesman for the company said: "Works on site are progressing well.
"Yesterday the team drained standing water from around the derailed vehicle and began to dig out the mud surrounding it.
"Today we will complete the removal of the landslip material from around the train and then re-rail it. If possible we may move the train today, but that may not happen until tomorrow."
He added: "In the days after that, we'll repair damage to the track and carry out further works to secure the slope."
Images are copyrighted to NetworkRail Scotland.