Climber injured in fall in Cairngorms flown to hospital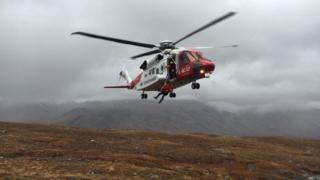 A climber has been injured after falling 15m (49ft) in the Northern Corries of the Cairngorms.
The man dislocated a shoulder and was left hanging on his rope in the fall on a route in Coire an Lochain.
Two members of Cairngorm Mountain Rescue Team who were climbing nearby were able to lower him to an area of flat, safe ground.
Inverness Coastguard helicopter airlifted the man to Raigmore Hospital in Inverness for treatment.
Cairngorm MRT said a piece of climbing equipment called a cam was "ripped out" of the rock on the route the man was climbing, causing him to fall.