New teacher training in rural schools announced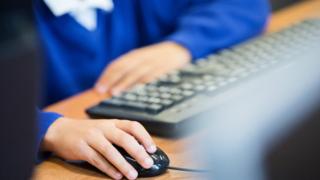 Plans for a new teacher training course aimed at specialists in science, maths and technology have been announced by the government.
It will be run by the University of Dundee and the University of the Highlands and Islands (UHI).
Up to 50 places will be available on the course - aimed at graduates and people who want to change careers.
The scheme is unlikely to be controversial and has been welcomed by the profession's governing body.
The universities will work closely with rural schools in areas of deprivation to help deliver the 18-month course.
The new scheme will join a number of other courses which are designed to complement the main teacher training system.
It was picked after a government procurement exercise to find another new route into teaching.
'Unprecedented change'
Some people in the profession had been concerned in case the latest scheme would mirror Teach First south of the border which allows trainees into the classroom at an early stage.
Teach First decided not to bid for this contract.
The course - which will run from December 2018 to June 2020 - will be open to graduates with a minimum 2:1 honours degree in chemistry, physics, home economics, maths and engineering.
The chief executive of teaching's governing body, the GTCS, Kenneth Muir said: "This new route into teaching is a welcome addition to the range of opportunities that exist to support people to become high quality teachers.
"It offers additional flexibility while maintaining the strength and quality of input from Scottish Initial Teacher Education Universities.
"Society is changing at an unprecedented speed and the way we train and register teachers must reflect those changes. We believe this route into teaching does that and GTCS is ready to start the process of accrediting this new programme as soon as possible.
"It is important to remember, as the cabinet secretary and GTCS Council have stressed all along, any new routes into teaching must meet the high quality benchmark of the GTCS Standards for Registration in order to ensure our children and young people receive the best possible learning experiences."
'Extremely rewarding'
The course will complement 11 other alterative routes into teaching for Scots who do not want to do a traditional postgraduate course in education followed by a probationary year.
The two universities will work with schools in Aberdeenshire, Argyll and Bute, the Borders and the Highlands.
Deputy First Minister and Education Secretary, John Swinney, said: "Teachers are the foundation of Scotland's education system and are crucial to our aspiration of closing the poverty-related attainment gap.
"We know that some areas face challenges in recruiting teachers in certain subject areas and this means that we need to think differently about how we attract new recruits into the classroom.
"This innovative proposal is designed to broaden the range of people entering the profession - providing a challenging, yet extremely rewarding, opportunity to train in rural schools within areas of high deprivation.
"Crucially, this route maintains the traditionally high standard of teaching in Scotland and I am pleased to support it with a quarter of million pounds from the Attainment Scotland Fund."
Supporters of the scheme will be hoping it helps attract more Stem (Science, Technology, Engineering and Maths) graduates into teaching and eventually helps deal with the recruitment difficulties experienced in some areas.