Marine Harvest to cut 34 jobs in Scotland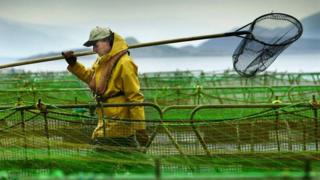 Fish farming company Marine Harvest has confirmed it is to make 34 of its staff in Scotland redundant.
Half the job losses will be at the company's farms on the west coast where fewer salmon are expected to be harvested this year.
The rest of the redundancies will be in its fish processing division.
Steve Bracken, business support manager at Marine Harvest, said the company was "very sorry" at having to take the action.
He said: "We are working with the various agencies and will do everything we can to find alternative employment for those who will be losing their jobs.
"Almost half the jobs are in processing which reflects the seasonal nature of work in this particular part of the business.
"In addition, there will be some redundancies in farming, largely because we will be harvesting fewer fish this year than last."
He added: "Salmon farming has always involved some fluctuation in employment numbers due to the harvesting cycles, but we will do everything we can to help those who will be leaving the business."