Danny MacAskill's 'furious rehab' for Celtic Connections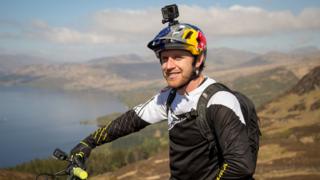 Scottish street trials cyclist Danny MacAskill is preparing for a performance at Celtic Connections just nine weeks after breaking a knee cap.
He was injured while filming in California.
After having his leg in a brace for six weeks, Skye-born MacAskill said he had been "furiously" trying to rehabilitate the leg.
He is due to perform stunts at Glasgow's 25th Celtic Connections with fellow cyclist Alistair Clarkson.
They are to be a feature of Saturday's Bothy Culture and Beyond, which has been described as a "music-vision-dance-bike spectacular".
It will also see The GRIT Orchestra and guest musicians play music by Scottish musician and producer Martyn Bennett, who died from Hodgkin's lymphoma in 2005 at the age of 33.
'Technical stuff'
MacAskill, from Dunvegan, described breaking his knee cap late last year as "less than ideal", adding he hoped to be as fit as he could for his role in the show.
He told BBC Radio Scotland: "It shattered into lots of pieces but luckily it didn't need an operation to stitch it all together with a wire.
"Since then I have been in a straight leg brace for six weeks and then the last few weeks I have just been furiously in the gym trying to rehab my leg as good as I can for the show.
"We'll just have to wait and see."
He added: "A few more weeks and I'd be grand, but at this moment it is a little bit in the balance.
"Luckily, I have a back up plan. One of my good friends, Alistair Clarkson, is going to be in the show. He will help me out with the more technical stuff."