People 'disrespecting' Culloden war grave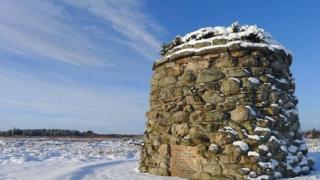 Visitors to Culloden Battlefield have been asked to remember to respect the site as a war grave.
Culloden, near Inverness, saw the defeat of the Jacobites in 1746 and about 1,500 fighters were buried there.
A Circle of Gentlemen, a society recalling the Jacobite cause, has complained of disrespectful behaviour, including selfies at grave markers.
The National Trust for Scotland, which manages the site, said the "vast majority" of visitors were respectful.
A Circle of Gentlemen has previously raised concerns about some people's behaviour at the battlefield.
In 2009, it said people were picnicking on top of graves.
'Need reminding'
Hundreds of thousands of people visit Culloden every year.
Interest in the battlefield has been increased in recent years by the Outlander books and TV series, something A Circle of Gentlemen said had raised the likelihood of inappropriate activities.
However, NTS has praised the behaviour of most of those who visit.
Katey Boal, interim property manager at Culloden, said: "The vast majority conduct themselves completely appropriately and treat the site and its features with respect.
"Where there are concerns, our staff always try to deal sensitively with issues as they arise.
"Throughout the peak visitor season staff are on the battlefield regularly throughout the day, and of course, there are signs making it clear that this is a war grave.
"There has been an increase in interest thanks to Outlander. We see this as an excellent opportunity to engage with a new audience, giving these visitors a deeper insight into the real life events that inspired the series."
Prof Tony Pollard, who has carried out digs at the battlefield and written extensively on the clash of April 1746 and the 1745 Jacobite Rising, said he had not witnessed inappropriate activity himself but was aware that it did occasionally happened.
The University of Glasgow archaeologist told BBC Radio's Good Morning Scotland programme: "It's disappointing that people might need reminding that it is a war grave."
Prof Pollard, who was the historical adviser on the first two series of Outlander, added that he believed interest in the books and show could be a positive thing.
He said: "If people do read the history alongside the novels they will understand the harsh reality of the '45."
Fans of Outlander themselves flagged up bad behaviour at another historical site connected to the books, and close to Culloden Battlefield.
They alerted Historic Environment Scotland to vandalism to the 4,000-year-old Clava Cairns.