Drone image of train stuck in landslip in Highlands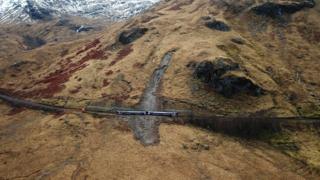 A new image taken by a drone of a train that was caught up in a landslip in the Highlands has been released by NetworkRail Scotland.
The train was derailed in Monday's incident and the part of the West Highland Line involved is expected to be closed for several days.
Five passengers were on board when the train came off the track early on Monday morning. No-one was injured.
The line is blocked at Loch Eilt between Arisaig and Glenfinnan and the ScotRail Alliance has said Fort William-Mallaig services would be suspended until further notice.
NetworkRail Scotland are clearing tonnes of material to free the train and clear the line.
Image is copyrighted to NetworkRail Scotland.