Plans for Invergordon and Nigg could create hundreds of jobs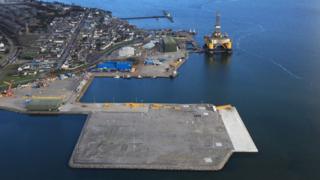 The operators of a port and a yard on the Cromarty Firth have set out separate plans which could create hundreds of new jobs.
Port of Cromarty Firth said it was now "fully licensed" to undertake offshore rig and platform decommissioning projects at Invergordon.
Global Energy, the operator of the Nigg Energy Park, has sought to extend its complex.
The company said its proposal could create about 300 jobs initially.
Port of Cromarty Firth said it had secured a permit from the Scottish Environment Protection Agency to handle radioactive waste.
The port authority said the waste involved would be what is known as normally occurring radioactive materials (Norm). It can be generated through the oil production process.
A licence is required for handling this material.
The newly granted permit follows one granted in November last year when the port authority announced it was in discussions to secure work decommissioning oil and gas structures.
Global Energy has sought permission from Highland Council for a major expansion of its yard at Nigg.
The extension would include new facilities for building and painting components for massive offshore wind turbines and also tidal energy machines.