'Potential' for a spaceport in Outer Hebrides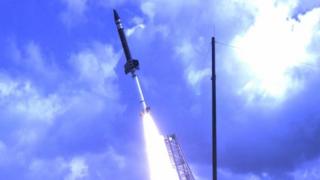 The potential for creating a spaceport in the Western Isles is being explored by the Scottish government.
Business Minister Paul Wheelhouse is to visit North Uist for talks on the idea.
Scotland has previously been suggested as a location for the UK's first designated spaceport from where satellites could be launched.
The Western Isles' SNP MP Angus MacNeil believes such a facility in the Outer Hebrides would create much-needed skilled jobs for the islands.
The isles are already the location of the UK's largest military rocket range from where a new record for the largest and highest object launched into space from the UK was set last year.
The Terrier Oriole rocket was launched from Benbecula during a Nato exercise.
'Major catalyst'
Mr MacNeil invited Mr Wheelhouse to visit North Uist.
The minister said: "Scotland has great potential for spaceport investment, and this would allow us to capitalise on launch opportunities to complement Scotland's growing reputation for the design and manufacture of satellites.
"Development of one or more spaceports would act as a major catalyst for the development of our hi-tech industries, and we will continue to work collaboratively with our agencies to provide help and support to secure investment at potential sites."