Scottish letter arrives via Wales and Thailand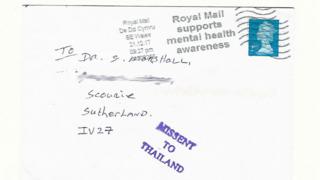 A letter left in a postbox close to the address it was sent to has arrived a month later via Wales and Asia.
The bill for the hire of a community hall in Scourie in the Highlands shows a postmark for Wales and a stamp reading: "Missent to Thailand".
The recipient, Shona Marshall of the West Sutherland Fisheries Trust, said the letter had only needed to travel 300m (984ft).
She said the "wee envelope" appeared to have "travelled a bit".
She added: "The bill was dated 30.11.17 and arrived today.
"I have had other things going astray - one letter from Lochinver came via Kent - but nothing of this scale."
'Extremely rare'
Scourie is a small, but widely scattered crofting community in north west Sutherland.
The letter is understood to have been among other items of mail related to the running of the hall posted the same day.
Royal Mail said it had been concerned to learn that the letter had not been delivered as it should have and wished to apologise to the customers involved.
A spokeswoman said: "Cases like this are extremely rare but every letter is important to us and we do all we can to offer a first-class service to our customers.
"If anyone does have concerns about their mail we would urge them to contact our customer services team on 03457 740 740 or via the website at royalmail.com with the full details of any specific incidents so that the complaint can be properly logged and investigated."