An Lanntair in Stornoway to trial Sunday opening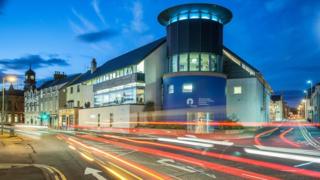 An arts centre on the Isle of Lewis is to open on Sundays for a trial period.
An Lanntair in Stornoway, a major arts venue which also has a cinema, will open on the last Sunday of the month until March.
Managers at the centre, who considered but ruled out opening on Sundays last year, said the trial was part of its efforts to be "equal and inclusive".
But some church leaders, including the Rev James MacIver of Stornoway Free Church, oppose openings on the Sabbath.
Ellie Fletcher, chief executive of An Lanntair, said the trial would be "respectful" to islanders who observe the Sabbath.
She said: "What we are doing is a genuine audience research exercise and not at all trying to challenge, or go against, local traditions.
"Sabbath observance is something very important to the Isle of Lewis and there is a strong history of Sabbath observance here and we are mindful and respectful of that."
Teas and coffees will be available for sale at the centre during the trial, but the venue's bar and restaurant will remain closed.
The Rev MacIver said Sundays gave people time for the "spiritual side of their lives", and for attending church services.
He said venues and businesses opening on a Sunday would have an impact on that time.