Woolly jumpers and kilts tribute to Alasdair Macleod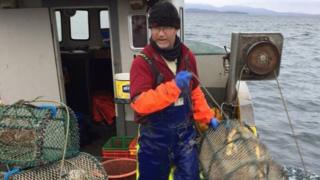 A celebration of the life of a fisherman who died in an accident last year is to take place later.
Alasdair Macleod, 57, died while fishing for prawns near his home village of Applecross in Wester Ross in November.
His body found at Staffin Bay on the Isle of Skye last month.
People attending the celebration in Applecross' Clachan Church have been encouraged to wear woolly jumpers or kilts, attire Mr Macleod was fond of.
His family suggested the wearing of the garments in a post on Applecrosslife, a blog started by Mr Macleod, a well-known figure in the Applecross community, to record life in Wester Ross.
The fisherman's family believe he had finished with his creels for the day and was on his way back to where he moored his small boat when he fell overboard.
His unoccupied boat, Varuna, was spotted on rocks north of Applecross Bay.
RNLI and coastguard teams, along with fishing boat crews and police made searches for Mr Macleod at the time but without success.