Two climbers rescued from Cairngorms mountain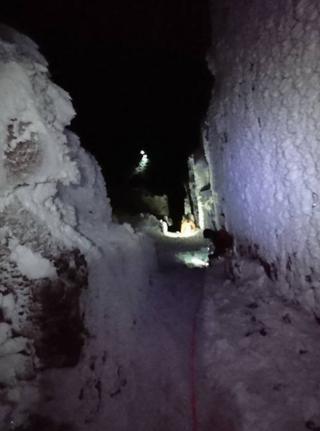 Two climbers have been rescued from a mountain in the Cairngorms after becoming stuck 600ft (183m) from the ground.
The men, who were not using any ropes, rang 999 after becoming cragfast on Jacob's Ladder at about 16:00 on Saturday.
Twenty four members of Cairngorm Mountain Rescue team were called out.
They first made sure the men were secured with ropes before pulling them up to a plateau.
Team leader Willie Anderson said the route was usually a grade 1 winter climb but due to the recent weather conditions it was grade 3 at the time. At that level climbers would usually have ropes with them.
"The men had climbed the route in a previous winter, but this time they just chose the wrong day," Mr Anderson said.
'Precarious position'
"There was a lot of thaw and freeze so the ice built up quite considerably. They couldn't move up or down and were in a precarious position."
Mr Anderson said one of the rescuers abseiled down to the men and secured them with ropes while other members of the team climbed up to them, bringing more equipment so they could be pulled up to the top.
They were then flown off the mountain by a coastguard helicopter.
"They were obviously very pleased to see us", Mr Anderson said. "And they were very cold but they had all the right clothing."
The men were thought to be in their 40s and from Wales.
Mr Anderson added: "It was a good outcome at the start of what will be a busy rescue period."