Discoveries made at Iron Age house site in Assynt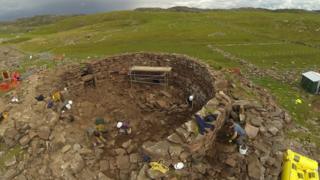 Volcanic pumice stone and pottery of a type common on the Isle of Lewis have been found at a 2,000-year-old site in the Highlands.
Archaeologists have been excavating an Iron Age house, known as a broch, in Assynt.
They believe its residents acquired the pumice and pottery through trading.
Clachtoll Broch is thought to have been abandoned between 150BC and 50AD after a fire broke out, either accidentally or in an attack.
'Long way south'
Writing in a post on the North of Scotland Archaeological Society's blog, Historic Assynt's Dave McBain said there had been a number of interesting finds at the site.
These included a knocking stone - a large stone with a hole in the middle where a stick could be used for pounding the husks off the outside of barley.
Three sickles, a saw, an axe, a copper pin and bone pins have also been uncovered.
In his post, Mr McBain said: "My personal favourites are the pumice stones.
"Nothing much in themselves, but given the notable lack of volcanoes in the north west Highlands, they either floated across the Atlantic on the Gulf Stream or were traded from a long way south.
"Having never heard of pumice found on the beaches here, I'd put trade as a firm favourite."
Mr McBain added that the pottery finds were "again a sign of either shared ideas or a trade network".
The Clachtoll project, which is funded by Historic Environment Scotland and the Heritage Lottery Fund, is being led by AOC Archaeology and involves Historic Assynt.
The project has also seen the creation of a 3D model of the ruins of the broch.