Invergordon's port seeking oil and gas decommissioning work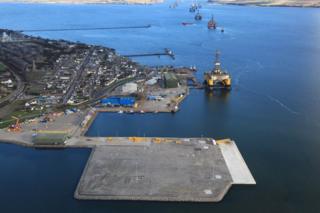 The operators of a Highlands port are in discussions to secure work decommissioning oil and gas structures.
Port of Cromarty Firth said it had become the first Scottish port to be granted a decommissioning pollution prevention control permit.
Issued by the Scottish Environment Protection Agency (Sepa), the permit covers almost the whole of the port's Invergordon Service Base.
It allows for the processing of 50,000 tonnes of waste material per year.
Port of Cromarty Firth said it had the facilities to handle the decommissioning and recycling of the largest oil and gas structures.
Chief executive Bob Buskie said: "This permit is held by the port, so companies looking to decommission their assets can either benefit from a turnkey solution using the port's consortium of specialist companies, or they can appoint their own preferred supplier to come and work on the service base.
"We are the first port to offer this open port philosophy and allow any reputable client, operator or contractor to use the port's decommissioning permit.
"Most other ports are aligning with a single contractor, but we're doing the opposite to provide customers with more flexibility and choice."
He added: "We are already in discussions with customers who have structures to decommission and I can see the first of the projects coming to the firth soon."