Monument status for rare medieval harbour on Skye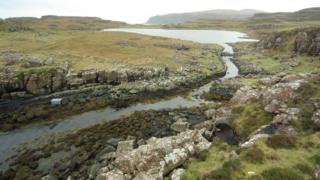 A rare medieval harbour and canal on the Isle of Skye have been designated scheduled monuments.
The Historic Environment Scotland (HES) status should give the site at Loch na h-Airde on the Rubha an Dunain peninsula greater protection.
Archaeologists believe the Vikings may have originally used the loch as an anchorage.
A "complex" of docks, boat noosts and quays have been indentified. The canal links the small loch to the sea.
A nearby cave has also been given scheduled monument status.
Creag a' Chapaill Cave shows evidence of having been used by people from at least the 3rd millennium BC until the early medieval period.
The noosts at Loch na h-Airde were shelters made of turf and stone while the channel to the sea was lined with stone, according to archaeologists.
A boat fragment found in the loch dates from the early 12th Century, and experts believe more remains of boats might be found in the area.
In the site's scheduled monument designation, HES described the harbour complex and canal as rare.
It said: "The scale of the docks, noosts and the presence of the canal and loch quays demonstrates that the site was a significant anchorage for the western seaboard.
"Given its sheltered and important strategic location, it is possible that the loch was used to shelter and overwinter boats, or that the site was a staging location.
"It may also have been used to repair or even construct boats."