Avalanche risk in mountains amid wider warning of snow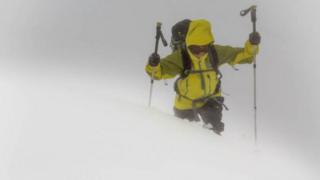 Walkers and climbers have been asked to be aware of the potential of avalanche risk on some of Scotland's mountains.
Recent days have seen snow showers and strong winds.
The Scottish Avalanche Information Service (SAIS) said high ground in the north west Highlands was expected to have the greatest amounts of snow.
The Met Office has issued a yellow "be aware" warning for snow over large parts of Scotland from 03:00 to 13:00 on Thursday.
SAIS said while there was a "mostly thin cover" of snow in the mountains there was potential for "deeper, unstable" deposits in sheltered areas above 800m (2,624.8ft).
The service said: "Be alert to the potential triggering of localised avalanches on these slopes where any deeper deposits may have formed."
'Some uncertainty'
In its warning, the Met Office said: "Snow is expected to develop across parts of Scotland early on Thursday.
"Snow is likely to become heavy and persistent for a time on Thursday morning before easing during the early afternoon.
"Two to 5cm of snow is likely for many parts with 10 to 20cm possible in places, mainly over higher ground."
It added: "There remains some uncertainty regarding where the heaviest snow will fall."
Every winter, SAIS assesses avalanche hazards in Lochaber, Glen Coe and Creag Meagaidh.
The service also covers Southern Cairngorms, Northern Cairngorms and Torridon.
Its latest avalanche risk forecasting season is due to begin on 15 December.