The mysterious envelope and the death of Alistair Wilson
Alistair Wilson was gunned down on the doorstep of his home in the quiet Highland town of Nairn as he prepared his two young children for bed 13 years ago.
The unsolved murder of the 30-year-old business banking manager has become one of the most baffling cases of recent times but the detective in charge of a new investigation said it should be remembered it also shattered lives.
"This isn't a fascinating crime, it's devastating - devastating for Veronica, who has lost her husband and for the two young boys, who were four and two, who grew up without a father," says Det Supt Gary Cunningham.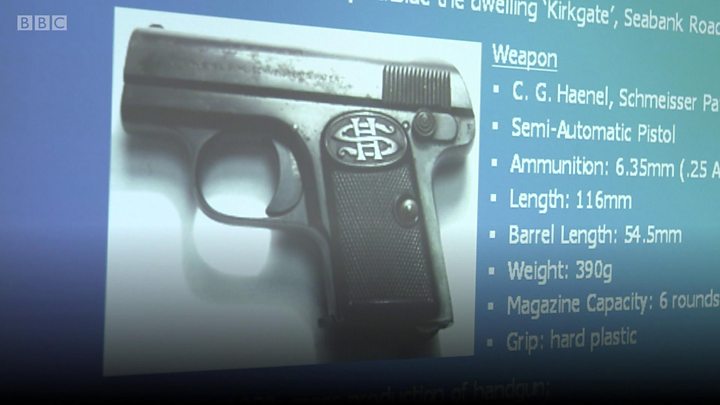 Mr Wilson was shot at his home on a Sunday evening at the end of November 2004.
He had spent that weekend with his wife Veronica, his children and family friends.
When the doorbell rang he was reading their boys a bedtime story.
Veronica answered the door to a clean shaven man aged 35-40, who was described as stocky and was wearing a baseball hat and a dark blouson jacket. He asked to speak to Alistair Wilson.
Veronica went up to the boys' room and told her husband. He expressed surprise that someone had come to the door at 7pm on a Sunday but went downstairs, leaving Veronica to take over the bedtime reading.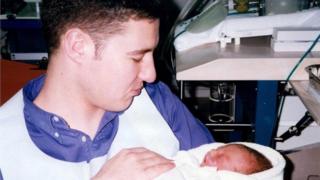 After a short discussion with the man, Alistair came back up to the room carrying a small blue envelope which the BBC has now learned was empty. The name 'Paul' was written on the front of the envelope.
Veronica told the BBC: "He was just a bit bewildered as to what the gentleman had said, because the envelope wasn't addressed to him.
"He was bewildered by the name, that it was not addressed to himself, and there was nothing in the envelope.
"And I said 'no, he definitely asked for you by name'."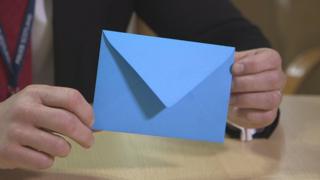 Veronica said there was no sense of danger at that point. Alistair had closed the front door.
She said: "It wasn't threatening. It was just very unusual. But there was no fear, otherwise I wouldn't have let him go back downstairs. He didn't need to, he was in the house now."
His wife told him they should get the boys down for the night and then try to figure it out.
"He just said he'd go back downstairs and see if the gentleman was still there," she recalled.
Minutes later, he had been shot.
Veronica said she heard three bangs, which she described as the sound of wooden pallets being dropped.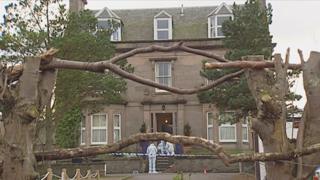 She ran to the front door to find her husband slumped and covered in blood. She saw the killer leave the scene and there was no sign of the envelope that had been handed to him.
While on the phone to the ambulance service, Veronica ran to a pub across the road and screamed for help.
There were more than a dozen people on the doorstep that night, trying to help save Alistair's life.
Despite their best efforts, he died shortly afterwards in hospital.
Ten days later, the murder weapon was found down a drain streets away from the Wilson family home.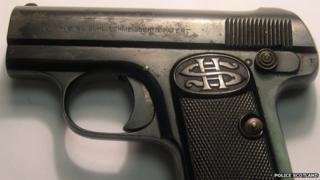 It was a Haenel Schmeisser, a 1920s German handgun known as a pocket pistol because of its small size.
Forensic analysis identified it as the murder weapon but tests on the gun failed to extract any usable DNA.
Police have now revealed that another Haenel Schmeisser, an exact replica of the murder weapon, was handed in to them last year following a house clearance in Nairn.
The gun is rarely found in the UK - there have only been 13 of these guns recovered here since 2008.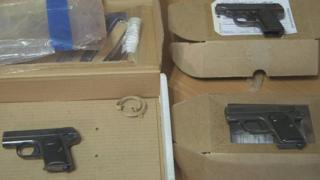 "Obviously two of them were in Nairn, which would appear quite significant," said Det Con Ged Quinn, who has been examining the background of the weapons.
Another gun, the same calibre as the Haenel, and almost identical in shape and size, was also found in Nairn.
The Belgian-made Melior pistol was handed in to police last year.
The police investigation has been vast since that November night 13 years ago.
More than 60 officers were working on it at its height, and they spoke to thousands of people and collected hundreds of DNA samples.
Various theories have emerged about the possible motive, some speculated the murder was linked to Alistair's job with the Bank of Scotland, which he was about to leave, others suspected mistaken identity.
Veronica says mistaken identity is "the only thing that makes sense to me".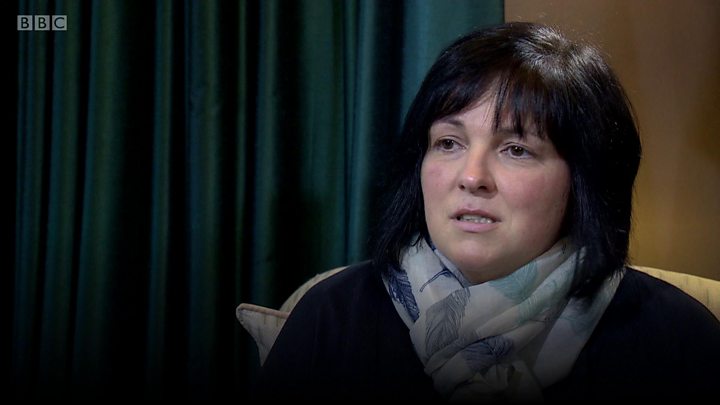 "I believe I did know Alistair and that evening, he did have the choice not to go back down," she said. "So I believe that he didn't know.
"If he'd survived, he still couldn't have told us any more. So the only thing that makes any sense to me was that it was the wrong Alistair Wilson."
She added: "We didn't have any sort of lifestyle that there was ever any threat.
"I couldn't even imagine why people are actually killed. You know, you see things, other people, and you just presume there's something dark or sinister in their life.
"But I knew Alistair inside out and there was nothing there."
The case is now being reinvestigated by a specialist team based in Edinburgh, 160 miles away from the scene of the crime.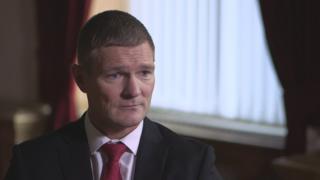 They have been going over every bit of evidence, every lead that's been gathered over the past 13 years.
"It's pointless missing one aspect which could actually give us the answer," Det Supt Cunningham said.
"We do not know who's carried out this crime. We don't have a motive yet.
"We have to look at personal, we have to look at professional, we have to look at associations, we have to look at possible mistaken identity.
"All we can do is try our best to follow every single lead that's given, and the public can help with that."
The Alistair Wilson enquiry line phone number is 0131 311 5916.
You can hear more on this story on BBC Radio Scotland on Sunday 3 December at 09.30, and afterwards on a podcast called The Doorstep Murder.