Police tweet open 'letter' to domestic abuse victim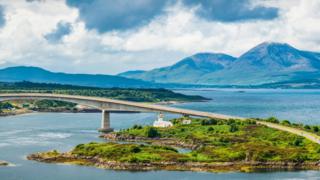 Police on Skye have tweeted an open "letter" to an unnamed young woman encouraging her to tell officers if she is a victim of domestic abuse.
A series of tweets begins: "A letter to a young woman in Skye. We know you follow this account and want you to see this."
The officer goes on to say the woman's friends and family believe she is in danger.
A later tweet revealed the messages were intended for anyone at risk.
Lochaber and Skye Police posted the series of linked tweets on Saturday afternoon.
The officer tweeted: "We want to help you and are doing lots with other agencies to try to keep you safe.
"You might not see us, you might not even like us being involved but we are always thinking about how we can help you.
"Your family and friends have told you they think you are in danger - they support you and want you to be safe."
Another tweet says that "degrading comments and controlling behaviour" are not a life the woman needs to lead.
The officer adds: "We think he's probably told you, 'It won't happen again', 'I'm sorry", 'I'll change', he's maybe even told you that it's your fault - IT'S NOT."
A final tweet encourages the woman to contact police or Women's Aid.
The chief executive of Scottish Women's Aid, Marsha Scott, said she thought the tweets were a "great, creative use of social media".
"Lochaber and Skye Police are trying to reach out in a different way which is fascinating and exciting," she told BBC Scotland.
Scottish Women's Aid runs a 24/7 national helpline for women who have experienced domestic abuse, as well as a network of local support across the country.
"In Lochaber, support is absolutely there and available with phone calls or face-to-face meetings. They provide advocacy in all its forms."
Ms Scott said some woman, especially those living in small rural communities, preferred the national helpline as they could remain completely anonymous.
She added that the organisation wanted to collaborate more with Police Scotland as it explored new ways to reach those who had suffered domestic violence.