How a community project aims to remember a 'loveable, caring little boy'
By Steven McKenzie
BBC Scotland Highlands and Islands reporter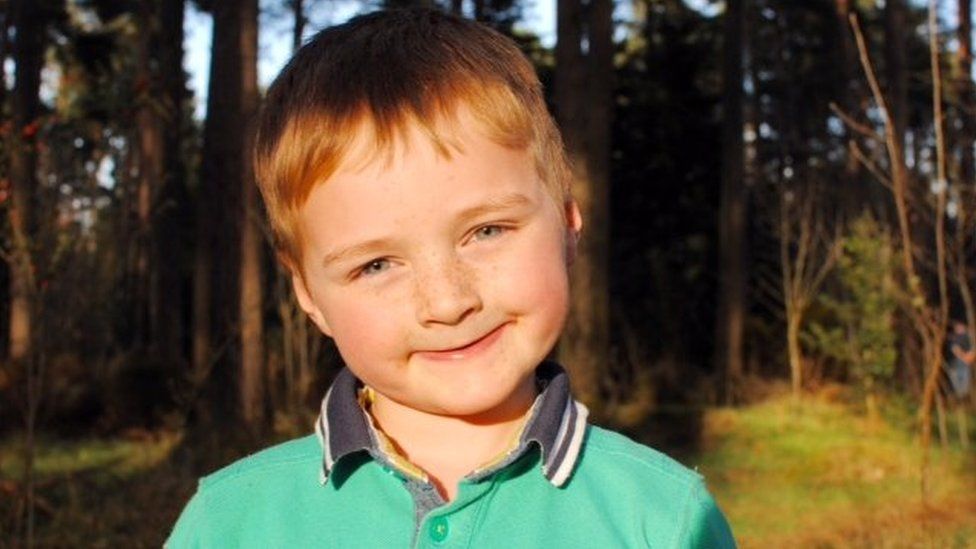 In February, eight-year-old Hamish Hey died in his mother's arms following a battle against cancer. Now in his home town of Nairn a major effort has begun in his name to create a beach-front community feature.
Hamish had a happy, but tough life, says his mum Susan.
When he was two-years-old in 2011 he was diagnosed with a metastatic alveolar rhabdomyosarcoma - a rare and aggressive soft tissue cancer.
Months of intensive treatment followed, including chemotherapy and radiotherapy.
Hamish also had pioneering surgery called rotationplasty which resulted in him having a prosthetic limb.
"For three years after that you would not have known there was anything wrong with Hamish," says Susan.
"He went to school. He did everything a child his age would do. He would run around playing with his older sister Lily."
Then in March 2016, Hamish was diagnosed with a DIPG, an aggressive, inoperable tumour within the brainstem.
It was unconnected to his earlier cancer, and there was no cure.
The diagnosis came when Susan was receiving treatment herself for breast cancer.
She says: "Hamish's final diagnosis came as the biggest blow. It is something myself and my husband, Sam, will never ever get over."
The couple decided not to tell Hamish, then seven, or Lily, who was 10 at the time, that the cancer this time was incurable.
"Sam and I knew what the outcome would be for Hamish," says Susan. "That he wouldn't survive.
"But for Hamish and Lily we wanted them to have some kind of level of normality."
Susan says Hamish, who endured a second round of cancer care with his usual smile, "was happy right to the end".
She adds: "That final week, in terms of his health, he deteriorated very quickly.
"His last words were: 'I love my life. I'm going to spend the rest of it in my bed'."
Nine months after Hamish died, Susan was told her cancer had returned.
"It is in my chest and lungs," she says. "I know they say there is no cure, but I am going to explore everything that is open to me.
"I have to fight it for my wonderful husband and my beautiful daughter, and I need to be here for TeamHamish and what we want to achieve through the campaign."
The family first started as fundraising to support charities that helped Hamish with his treatment and care. Then in May this year following Hamish's death TeamHamish was formed.
The campaign is leading an effort to create a large-scale community feature at Nairn's beachfront.
"While it would be something to remember Hamish by, we want it to be a place for everyone in Nairn - for children, teenagers and older people," says Susan.
"Our family has had so much support from the local community. We want to give something back."
Discussions have already begun with Highland Council and Nairn Community Improvement Enterprise (Nice).
Susan, an art teacher and Sam, an architect, have also been looking locally and globally for inspiration for what the new area might include, such as play park apparatus, water features and sculptures.
While the couple say they are itching to show the community their ideas, they are holding back to allow for early planning processes to be worked through.
These include a scoping study looking at how the area involved could be developed in a way sensitive to the natural environment and other local interests.
But one feature Susan hopes the area might include is a rainbow bridge.
Susan says: "Without a shadow of a lie, when Hamish died in February there was a rainbow in the sky every day for two weeks. The rainbow is now part of our TeamHamish logo.
"People told us one could be seen on the day of his funeral. People say it is Hamish watching us and we embraced that."
Asked to try and sum up her son's personality, Susan says: "I know it sounds a bit clichéd, but Hamish's smile would light up a room.
"He was a very lovable, caring little boy with a wonderful sense of humour, which he shared and he was loved by all in the community and beyond."
Related Internet Links
The BBC is not responsible for the content of external sites.