Inverness Centre retail park shut after shopper injured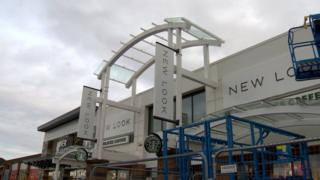 Inverness' largest retail park has been temporarily closed to the public after a glass panel fell from a shop frontage and injured a shopper.
The incident happened outside one of the stores at the Inverness Centre shopping park on Tuesday afternoon.
The site's owners said on the park's website and Facebook page that the entire site would remain closed until further notice.
Environmental health officers are assisting with an investigation.
The Scottish Ambulance Service said it was alerted to the incident involving an injured man in his 30s at 14:06 on Tuesday.
A spokesman for the service said the man was taken to Inverness' Raigmore Hospital for treatment.
A spokesman for the Inverness Centre said: "We are investigating the cause of an incident that occurred yesterday at the Inverness Centre.
"The ambulance service were in attendance and we are assisting them with their enquiries.
"The Inverness Centre is temporarily closed while we evaluate the cause of the incident. The safety of our customers and staff is our highest priority."
Customers have been asked to check the park's website for updates.
A Highland Council spokeswoman said: "Environmental health officers have visited Inverness Retail Park today as part of an investigation into the incident.
"The initial focus of their investigation was to ensure that there was no remaining health and safety risk to shop workers and public from the remaining glass panels.
"Environmental health officers will continue to liaise closely with the retail park operator while investigations continue."
Duncan Macpherson, a Highland councillor for Inverness South, said he had been told by witnesses that the shopper was injured after he struck on the head by broken glass.
Mr Macpherson, who visited the retail park next to the A96 on the east site of Inverness on Wednesday, said a temporary, protected walkway was being erected below the glass canopies that are above most of the shops at the site.
People have been arriving at the entrance to the retail park, formerly known as Inverness Business and Retail Park and more recently Inverness Shopping Park, only to be turned away.
Signs and barriers have been put up.