New row about Sunday openings on Isle of Lewis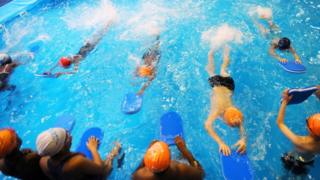 A businesswoman on the Isle of Lewis has been asked to close her shop on Sundays to "protect the traditional custom of honouring the Sabbath".
In a letter, The Lord's Day Observance Society, Lewis and Harris branch, said Sundays should be "free from work pressures and for family life".
Leona Rawlinson's decision to open her shop, Tweed Tastic, on Sundays has been backed by the National Secular Society.
It also backed calls for a leisure centre on Lewis to be open on Sundays.
In its letter, which was accompanied by a bible, The Lord's Day Observance Society congratulated Ms Rawlinson on the success of her business in Stornoway, but said it was concerned that the opening hours extended into Sunday afternoons.
It said many islanders, including those who did not hold religious beliefs, wanted Sundays to be protected.
BBC Scotland has tried to contact Ms Rawlinson for comment.
In a statement, the National Secular Society said Ms Rawlinson was "simply serving the general public and doing nothing wrong".
The society has uploaded the letter she received from The Lord's Day Observance Society, Lewis and Harris branch, to its website.
The National Secular Society has alleged that Ms Rawlinson has experienced intimidation and harassment because her shop was open on Sundays.
Police Scotland said an incident was reported to the police.
A spokesman said: "Police offered the appropriate advice and reassurance to the person making the report."
Trial openings
Over the course of 2016 and into this year, the National Secular Society supported a Western Isles campaign, Families into Sports for Health (FiSH), to have leisure facilities on Lewis and neighbouring Harris opened on Sundays.
The local authority-run centres have traditionally closed on Sundays in observance of the Sabbath.
However, similar sites elsewhere in the Western Isles are open that day.
FiSH offered to pay for a trial opening of the sports centre and swimming pool on Lewis after raising thousands of pounds.
The islands' council, Comhairle nan Eilean Siar, declined the offer. It said its decision not to open the site was for "operational reasons" and not a religious one.
The comhairle successfully defended a complaint from FiSH to the Commissioner for Ethical Standards in Public Life in Scotland on the matter.
In September, Stornoway arts centre An Lanntair said it was "not currently in a position" to open on Sundays after holding a public consultation on the idea of opening for a trial period.
The centre said a "significant majority" of those who responded were in favour of the idea, but following a board meeting, decided that for operational reasons a trial now was not possible.
In 2010, there was strong opposition from The Lord's Day Observance Society to the start of a Sunday ferry service between Stornoway and Ullapool on the west Highland coast.