Polish war memorial in Invergordon refurbished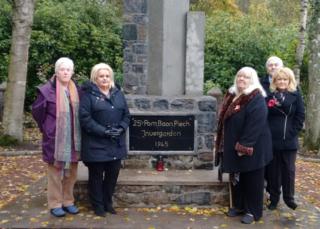 A war memorial built in a Highlands town by Polish soldiers using stone gathered from a nearby beach has been refurbished by stonemasons.
The memorial was erected in Invergordon in 1947 to commemorate Polish military personnel who lost their lives in World War Two.
Poles fought alongside British forces during the war, and many were trained and stationed in Scotland.
The Polish Memorial has been cleaned and its lettering repainted.
The work was done as part of the War Memorial Restoration Project and received funding from Highland Council.
Trees at the memorial were also cut back, benches sanded and repainted and railings were repainted.
A group of offenders sentenced to unpaid work as an alternative to short-term prison sentences were involved in this work.