Approval sought for Dounreay dome demolition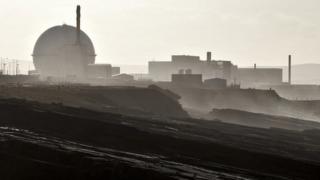 Permission has been sought for major changes to the Dounreay nuclear power complex, including the demolition of its landmark dome structure.
A planning application has been submitted to Highland Council for the dismantling of the site's reactors.
The application covers other work, including construction of new buildings to store low level radioactive waste.
The waste is currently held in pits that are at risk of being exposed due to coastal erosion.
Dounreay Site Restoration Limited (DSRL) has estimated that this could take from 800 to 3,000 years to happen, with the radioactive material then being washed out into the North Atlantic.
The buildings to be demolished include the Dounreay Fast Reactor's exterior superstructure, also known as the sphere and the golf ball. It is a landmark feature of the nuclear site on the Caithness coast, near Thurso.
The dome, like many other structures at Dounreay, was built in the 1950s.
At the time, a sphere was considered to be the best shape of structure to contain a gases from the reactor, if there was a breach.
'A nightclub'
The dome is made up of plates of steel that were welded into the shape of a sphere.
In the 1960s, it featured in a series of special edition stamps promoting Britain's "white heat of technology".
More recently consideration was given to how the sphere could be retained on the site.
Historic Scotland looked at the potential of listing the building so that it would be conserved.
In 2007, Dounreay Site Restoration Limited (DSRL), the company that manages the site, released the results of public consultation on future uses for the dome.
Suggestions included turning it into a hotel, museum and even a nightclub.
However, because the structure is contaminated with low levels of radioactivity and due to high maintenance costs, it was decided to demolish it.
'Skyline changes'
In 2011, plans to repaint the dome at a cost of £500,000 were cancelled.
The repaint had been done every 10 years to protect the dome's metal work.
DSRL said that following an assessment the steel was deemed thick enough to last as a protection until the reactor inside was dismantled.
The new planning application, which sets how the dome would be cut up into pieces after the reactor inside has been dismantled, is the last of three planning phases covering the overall decommissioning of the complex.
Phil Craig, Dounreay managing director, said: "While this next phase in our decommissioning mission signifies a step change in visible decommissioning, with skyline changes expected as reactor buildings and other structures are ultimately removed, there will be no change to our highest priorities - safety, security and environmental protection."