Walkers lost on Ben Wyvis had no map or compass.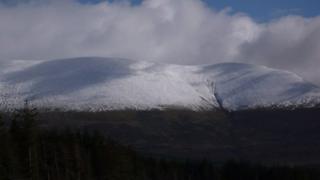 Two hillwalkers who got lost in "full on winter conditions" on Friday had not equipped themselves with a map and compass.
Dundonnell Mountain Rescue Team said the lack of the hillwalking aids contributed to them getting into difficulty on Ben Wyvis, near Garve.
The man and woman from Aberdeenshire used their mobile phones to alert emergency services.
They were found and airlifted to safety by a coastguard helicopter.
Dundonnell MRT kept in contact with the couple by phone while a search was made by the Inverness-based helicopter crew.
The rescue team described the weather conditions at the time as "full on winter".
The walkers were beginning to feel the effects of the cold, but were otherwise unharmed.
Donald MacRae, Dundonnell MRT leader, said: "A quick response by both the team and the helicopter certainly saved this couple from any further harm.
"There is no doubt that a lack of a map and compass greatly contributed towards the couple getting lost and calling the emergency services.
"I want to remind everyone, especially at this time of the year when daylight is short and winter conditions are present, that everyone heading to the hills must be well prepared and know how to use their equipment.
"In this case the couple felt confident that because they could see the hill and ridge that everything would be fine. It wasn't.
"Weather conditions changed, cloud levels dropped and they got lost. I am not convinced they would have survived the night if they had not been found."
It is the latest warning from Dundonnell MRT urging hillwalkers to be properly equipped for weather and the terrain in Scotland's hills.
On the week the man and woman got lost on Ben Wyvis, Mountaineering Scotland issued an appeal to hillwalkers to make sure they had the skills and information, as well as the right equipment, to cope with wintry conditions.