Corncrake numbers in Scotland fall for a third year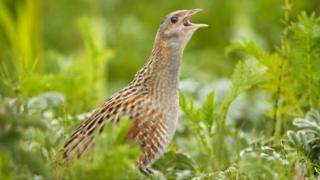 Numbers of one of Scotland's rarest breeding birds have fallen to their lowest level since 2003, according to RSPB Scotland.
Corncrakes breed on islands including Lewis, Harris, Mull, Orkney and parts of the north-west Highland coast and Argyll.
The birds are counted by listening for the call of males.
Their number has declined for the third year running with only 866 recorded this year.
The figure marked a drop of 17% from 2016, and down 33% from 2014's high figure of 1,289 males.
RSPB Scotland said numbers had not been this low since 2003 when 836 males were recorded.
The charity said the long-term survival of corncrakes as a breeding species in Scotland was now under threat.
It has asked the wider conservation community and Scottish government to do "all they can" to work with landowners and crofters to increase protection of corncrakes.
'Incredibly worrying'
RSPB Scotland suggested that there were various reasons behind the decline.
These included the birds' naturally short lives, problems encountered during their migration and also changes to agricultural schemes which had previously better protected their breeding areas.
Paul Walton, head of habitats and species at RSPB Scotland, said: "The 'crex crex' call of the corncrake is unmistakeable but in recent years has become something even fewer of us are likely to hear - in just three years Scotland has lost a third of its calling male population.
"While some areas have seen an increase in numbers this third successive annual fall in numbers is incredibly worrying.