Giant tuna causes 'frenzy' at Colonsay salmon farm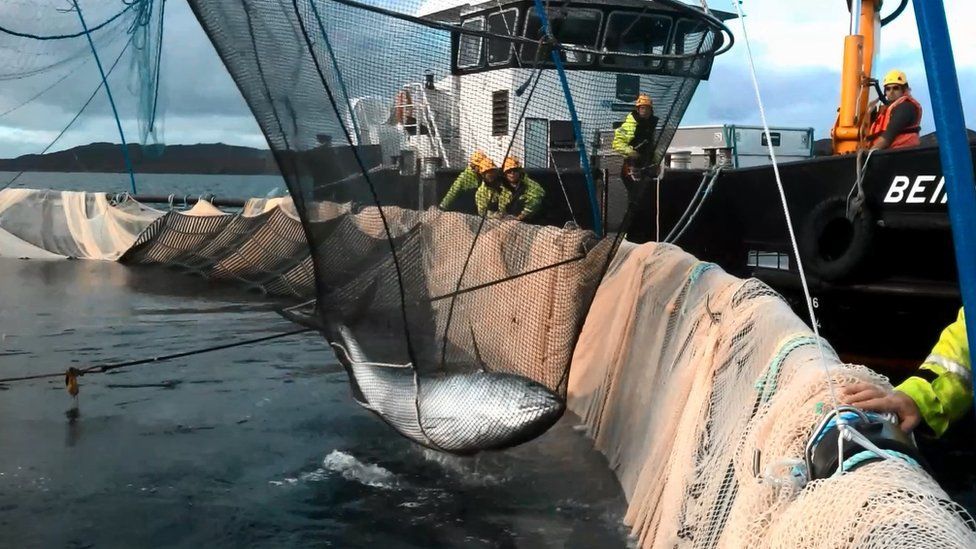 Salmon farmers off a Hebridean island have rescued a 300kg (47-stone) tuna after it appeared in one of their pens.
Marine Harvest staff at Colonsay said they were stunned to see the fish, which experts said was likely to be an Atlantic Bluefin.
They said they spotted the 3m-long tuna after noticing "a feeding frenzy" near their salmon enclosures.
The fish was eventually caught using a net and crane and was returned to the sea.
Farm manager Ali Geddes said: "We'd noticed a lot of activity around the southern part of the farm - there seemed to be a real feeding frenzy going on with the dolphins and porpoises."
He said the tuna could reach speeds of 50mph.
"It seems to have burst through the foot of the pen like a torpedo," he said.
"Thankfully the tuna seems to be unhurt and none of our own fish have escaped.
"The hole the tuna made was more like a slash than a round hole and we called in divers who repaired it within a few hours."
The salmon farmers used a special panel net, normally used during harvesting to allow smaller fish to swim through the gaps, to contain the huge tuna.
A landing craft crane was then used to lift the fish into a large basket before it was released into the open sea before swimming away.
Ben Hadfield, managing director of Marine Harvest Scotland said: "It could have been a very different story and it's testament to their skills that this beautiful fish is still alive and well."
Related Internet Links
The BBC is not responsible for the content of external sites.