Dual World Heritage status suggested for Isle of Skye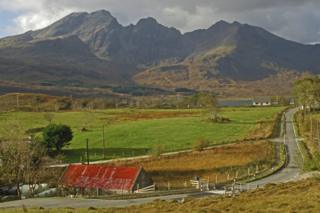 Unesco World Heritage status could be sought for the Isle of Skye to help attract funding for improvements to facilities for tourists.
Highland Council has published a paper setting out short and long-term ways of easing pressure on tourist hotspots and upgrading services such as car parks.
The number of visitors to Skye has been increasing in recent years.
World Heritage sites already in Scotland include The Antonine Wall, Neolithic Orkney and St Kilda.
A dual listing has been suggested for Skye to recognise its landscape and wildlife and also its culture.
'Exponential growth'
Highland Council has described its paper, Skye and Raasay Tourism Infrastructure: A Dynamic Workshop Approach, as "ambitious".
The report's findings include:
In 2013-14, Skye was visited by an estimated 1.3 million people
Between 2014 and 2016, that number of visitors may have increased by 12.7%
Tourism campaigns, the use of Skye's landscapes in big-budget movies and "intense media exposure" of locations such as the Fairy Pools are factors behind the growth in visits
10-15 years ago, most visitors were traditional campers and visitors by car. Increasing numbers of hire cars, motorhomes and coaches are now being seen
Issues include a lack of public toilets, parking and public transport
Highland Council said tourism infrastructure issues on Skye and neighbouring Raasay "came to a watershed" this year, with the "exponential growth in tourist numbers colliding with an infrastructure that is no longer fit for purpose".
Tall ships race
Councillor Ronald MacDonald, who co-wrote the paper, said a World Heritage Site listing for Skye was among the long-term objectives.
Other long-term proposals include the staging of a tall ships sailing race on a route between Skye and the remote archipelago of St Kilda, which has dual World Heritage status.
This could draw new investment to Skye.
Councillor MacDonald said: "The paper proposes two long-term 'anchor' project statements: a dual World Heritage Site listing for Skye and a tall ships project.
"The World Heritage listing is intended to offer long-run sustainability to the land-based tourism industry, by attracting funding from a diverse range of sources and similarly the tall ships race, with various events built around it, is intended to kick-start the sleeping giant of marine tourism by way of offering imaginative and innovative funding solutions."
Shorter-term aspirations include improving car parking at sites popular with tourists.
John Finlayson, another Skye councillor, said the island's communities were working with the council to overcome the challenges, adding that he hoped the Scottish government would also join that effort.