Royal National Mòd gets under way with record entry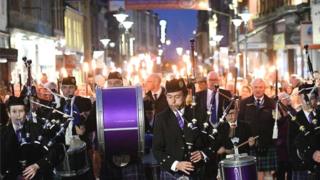 This year's Royal National Mòd has got under way in Fort William.
The Mòd is Scotland's biggest celebration of Gaelic culture and has attracted a record entry of more than 3,600 participants.
The eight-day event, which started with a torchlight procession, will feature song, music, dance and arts competitions as well as performances.
The Gaelic festival is organised by An Comunn Gàidhealach, which was founded in Oban in 1891.
The Mòd is being held in Fort William for the first time in 10 years.
The festival gives opportunities for people of all ages to perform across a range of competitive disciplines