CairnGorm Mountain: Can Scots ski centre 'guarantee' snow?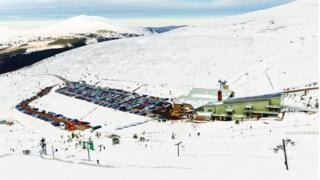 Skiers could be guaranteed snow at CairnGorm Mountain ski resort this winter, after the firm revealed plans to install a snow-making machine.
It wants to fit a Snowfactory unit which can produce large amounts of snow at virtually any outdoor temperature.
If the planning application is successful, it believes it will be first time this technology has been used at a ski resort in Scotland.
Low levels of snow last winter meant snow sports were limited.
Adam Gough, of CairnGorm Mountain, said it was a "really significant" move for the business.
"It is no secret that last season was poor in terms of snowfall and we simply weren't able to open for snowsports as often we would have liked," he added.
'Game changer'
The new technology is made by TechnoAlpin and it will cost more than £90,000.
CairnGorm Mountain plans to trial it during peak season, from November 2017 and January 2018, when it will be used to form a beginners' area.
The machine is able to produce 45 tonnes of snow a day which can be pumped and sprayed up to 200m (218 yards).
Mr Gough added: "Being able to trial the Snowfactory for two months is crucial to understand whether this is a viable option for the resort in the long-term.
"If successful then we believe it will noticeably enhance the snowsports experience at CairnGorm Mountain."
Sarah Smith, head of business development with Highlands and Islands Enterprise said: "This technology looks set to offer skiers and snowboarders a guarantee of snow being available whenever they want to visit.
"For an outdoor business in Scotland, that could be a real game changer."