Volunteers pick up 4kg of chewing gum discarded on Ben Nevis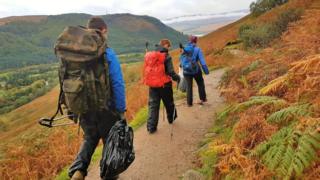 A bag of chewing gum and an empty 1980s packet of peanuts were among 121kg (267lbs) of rubbish found on Ben Nevis.
Fourteen volunteers filled 21 bags during a litter pick on Scotland's highest mountain on Saturday.
The debris found on the hillside included a peanut packet with a best before date of January 1987 and a ball of chewing gum weighing 4kg (9lbs).
It was one of a series of events across the UK organised by the Real 3 Peaks Challenge.
A total of 570kg (1,256lbs) of waste was taken off seven peaks in Scotland, England and Wales. They were:
Ben Nevis
Scafell Pike (Lake District)
Snowdon (Wales)
Ben Lomond (Scotland)
Lochnagar (Scotland)
Ben MacDui (Scotland)
Mam Tor (Peak District)
Dovestone reservoir (Peak District)
Organiser Rich Pyne said it was "not a bad day out" for the 109 volunteers who took part in the nationwide clean-up.
Among the debris were lots of tissues, cigarette ends, banana peel, orange peel, bottle tops, tampons, sweet wrappers, foil, crisp and sandwich wrappers.
Some of the 150,000 people who climb Ben Nevis every year even abandoned walking poles, tents and flags on the mountain.
One volunteer also came across a horseshoe they believe belonged to one of the ponies which worked Ben Nevis in the early 1900s.
My Pyne told the BBC Scotland website that they generally receive a good reaction from other hillwalkers during their annual litter picks.
"They always say thank you, they're always grateful," he said. "Quite often they ask if there's anything they can do and then they might pick up a few bottles on the way down."
The mountain guide, from Kinlochleven, set up the Real 3 Peaks challenge in 2013, in a bid to clean up the mountains before the winter snowfall.