Swedish woman wins World Porridge Making Championships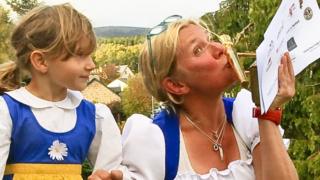 A Swedish woman has been crowned the winner of the 24th World Porridge Making Championships in Carrbridge.
Ellinor Persson won the Golden Spurtle trophy, with fellow Swede Per Carlsson taking the Speciality title.
Competitors came from the USA, Russia, Switzerland, Holland, Iceland, Sweden and across the UK and Ireland.
In the main competition, only oatmeal, salt and water can be used, with the porridge judged on consistency, taste and colour.
Ms Persson, who works in the steel industry, has won the Swedish Traditional Porridge Making Champion title two years in a row. In her spare time she runs food tours in the woods and fields around her local town of Halmstaad in south west Sweden.
'Jumping up and down'
She said: "It's a real honour just to compete in the competition, never mind to win. I can't really put how I'm feeling into words, it's just a fantastic feeling.
"I was very excited when Per won the Speciality title and when the judges called out my name as World Champion I couldn't believe it - I was jumping up and down, it was very exciting."
In the "Speciality" competition, oatmeal must be the main ingredient in any sweet or savoury porridge-based dish.
Mr Carlsson impressed judges with his dish Nordic Porridge - Caramel Sweet and Sour, a porridge made with oatmeal, cloudberry liqueur, orange peel and whipped cream, topped with flambéed cloudberries and whipped cream.
Mr Carlsson describes himself as "an extremely devoted porridge maker".
The event is organised by Carrbridge Community Council.
Organiser Michelle Green said: "It's been a fantastic day for the competitors, judges, visitors and villagers alike, and we're already looking forward to the 2018 competition, when the Golden Spurtle will be celebrating 25 years as one of Scotland's favourite culinary events."