Archaeology worth £4m to Western Isles' economy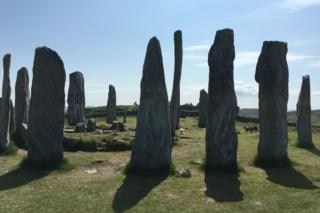 Standing stones that are 5,000 years old are helping to boost the Western Isles economy by £4m a year, according to a new report.
It found that archaeology, including the Callanish standing stones and Dun Carloway, also supports 80 full-time jobs.
The analysis was commissioned by the Comhairle nan Eilean Siar.
But a council committee heard the historic sites have the potential to be worth £8m and sustain 160 jobs.
Plans have now been put forward to help bring in more growth through the development of a trail linking the most prominent sites.
Nick Smith, heritage manager with Comhairle nan Eilean Siar told BBC Radio Scotland that the islands wanted to take full advantage of the growing tourism market.
He said: "The landscape of the Outer Hebrides is to a large extent a Neolithic landscape.
"When you're standing somewhere like Callanish, for example, looking out over the rest of the landscape, you're really looking at something that was to a great extent influenced and moulded by the activity of humans in pre-history.
"There's an awful lot more out there than those big popular sites and I think we've got a real opportunity to open people's eyes."
The study's findings are an assessment of the value of tourism by those with an interest in archaeology.
It compared engagement with sites in the Western Isles with those in Orkney to find the future potential of archaeology as an economic and tourism driver.
Mr Smith said the Western Isles "certainly wouldn't want to steal visitors from Orkney".
He added: "The figures for engagement with archaeology that are seen in Orkney have been achieved after a very long period - several decades of effort and investment.
"It's certainly not something we would expect to achieve overnight but if we set off on a journey now then even modest gains in engagement and visitor numbers can deliver a lot for our economy here in the Outer Hebrides."
Over a 10-year period, the study predicts an increase of 10% in holiday visitors specifically attracted to the Outer Hebrides to engage with with its historic structures.
The report recommends several steps to help generate growth, including the development of an archaeology based Outer Hebrides-wide trail.
This would see a route created of key places, the development of online and paper based promotional materials, installation of interpretation and improvements to access and facilities in some locations.
An application is being made to the Heritage Lottery Fund's Great Place Scheme to assist with developing tourism and public engagement