Tongue Primary pupils' video appeal for new teacher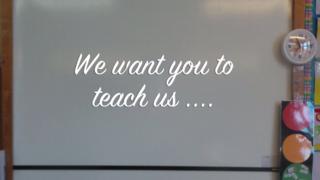 Pupils at a small school in the Highlands have made an appeal for a new teacher to join their primary.
Tongue Primary, which has a roll of 21 children, is in the community of Tongue on the north Sutherland coast. It has a vacancy for a principal teacher.
The children have made their appeal in an online video.
They are the latest pupils to make a public appeal for a teacher. Others have included children at Melvich Primary in Sutherland in 2010.
Last month, Poppy Dennis, 11, wrote to Education Secretary John Swinney to highlight the teacher shortage at her school, 28-pupil Arisaig Primary School in Lochaber.
In their video, the pupils say there is lots for their new teacher to do, including "eating cake and drinking coffee and tea in the staff room".
Highland Council has said that, like other local authorities, it has been facing challenges filling teacher posts.
It is involved in two schemes designed to increase the supply of teachers.
The schemes include a Distance Learning Post-Graduate Primary qualification in partnership with the University of Aberdeen.