Final countdown to World Porridge Making Championships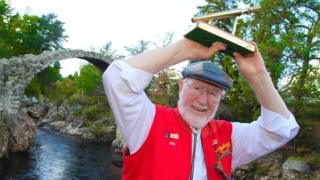 Final preparations are being made for the 24th World Porridge Making Championships in Carrbridge, in the Cairngorms, on Saturday.
Competitors from the USA, Russia, Switzerland, Holland, Iceland, Sweden and across the UK and Ireland are to compete for the Golden Spurtle trophy.
Bob Moore, 87, from Portland, Oregon, won the award last year.
This year's judging panel includes French chef Lydie Bocquillon and Skye restaurateur Shirley Spear.
The championships are organised by Carrbridge Community Council.
Organiser Michelle Green said: "The World Porridge Making Championships is firmly established as one of the highlights of Scotland's foodie calendar.
"It's a really special event, and is a great way of bringing visitors from all over the world to our beautiful Highland village."