Isle of Skye's Michelin star pain and gain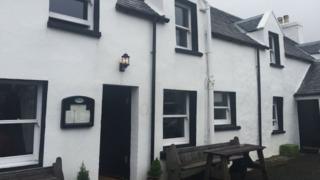 A restaurant on the Isle of Skye has earned a Michelin star, while another on the island has been unsuccessful in retaining its award.
Chef Michael Smith's Loch Bay restaurant in Stein on Skye's Waternish peninsula has received a star and mention in the 2018 Michelin Guide.
The restaurant is in a converted crofter's house.
But Kinloch Lodge, in Sleat, said it had lost the "precious" Michelin star it had held for seven years.
'Dear friend'
The Loch Bay has said on its website that its team were delighted by its mention in the new Michelin Guide.
Owner of the Kinloch Lodge, Isabella Macdonald, said she and the hotel's staff were sad not to have retained the accolade.
She said: "Our wonderful team of chefs, headed up for 10 years by Marcello Tully, are as brilliant and dedicated as ever and we will continue to do what we do best - provide delicious and wonderful food in our own unique style.
"Yesterday we were all so very happy and proud of our business and what we do. Today we still feel exactly the same."
She added: "The silver lining is that our dear friend Michael Smith at Loch Bay has been awarded a star and we could not be happier for him and his team.
"Skye continues to be a destination for food lovers around the world."