Flood affects Raigmore Hospital computer systems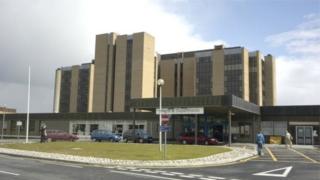 Rainwater leaking into a basement holding a hospital's computer servers has led to the cancellation of operations and other procedures.
NHS Highland said the situation affecting Inverness' Raigmore Hospital had an impact on what it described as "minor type" surgery.
About 30 operations and up to 60 other procedures had to be cancelled.
NHS Highland had to revert to a paper-based contingency plan after a number of computer systems was affected.
Essential operations were possible, and the health board said patients' safety was not compromised.
Heavy rain overnight leaked through a flat roof at the hospital and down into its basement.
Computer systems have been returning to normal over the course of Monday.
However, earlier in the day, the situation affected Raigmore's telecommunications and access to reports, plus files reports from its X-ray department and laboratories.
Raigmore is the largest hospital in the Highlands.
The health board said the cause of the problems will be investigated.