First new stretch of A9 dual carriageway opens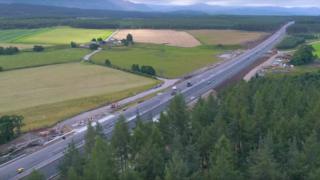 The first new section of dual carriageway to be completed as part of a £3bn project to upgrade the A9 is now open to traffic.
Traffic restrictions have been lifted to allow vehicles full access to the 7.5km (4.7 mile) stretch of the route between Kincraig and Dalraddy.
Completion of the work, which cost £35m, also allowed for the 40mph speed limit in place to be lifted.
The overall scheme is to be completed in 2025.
The opening of the new stretch of dual carriageway breaks up what had been the largest section of single carriageway on the road between Perth and Inverness.
It was due to open in the summer, but the project was delayed by a "technical issue".
Economy Secretary Keith Brown said: "Drivers will welcome having access to an additional section of dual carriageway which is the first of many to come as part of the A9 Dualling Programme.
"We expect to be awarding the contract for the Luncarty to Pass of Birnam section in the first half of 2018 as we press on with our programme to build a fully dualled A9 between Perth and Inverness.
"This project will open up our country for trade and tourism, delivering significant economic benefits."