Nato's Joint Warrior exercise begins off Scotland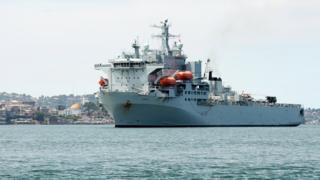 One of Nato's biggest European military exercises is under way off Scotland's coast.
Joint Warrior is held twice a year - in spring and autumn.
The second staging of this year's exercises involves warships from European navies, as well as those from the US and Canada.
Many of the ships, including UK casualty ship RFA Argus, gathered in the Clyde ahead of Joint Warrior starting on Saturday.
Aircraft from Canada, France, Norway, the UK and US will fly out of RAF Lossiemouth in Moray and HMS Gannet at Prestwick in Ayrshire during the exercise, which runs until 12 October.
Nato army personnel will also be involved.
The exercise will test battlefield and anti-terrorism tactics, as well as training in anti-smuggling operations and humanitarian missions.
Joint Warrior overlaps with another Nato exercise, Formidable Shield, which is focused on the Western Isle's Hebrides Range.