Firm defends new design of Kings House Hotel extension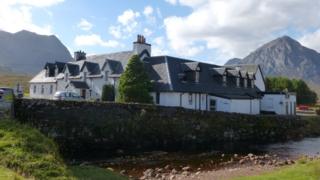 A company involved in refurbishing a landmark hotel near Glen Coe has defended the design of a planned extension following criticism of it.
Mountaineering Scotland has described the proposed extension to the Kings House Hotel on Rannoch Moor as "industrial".
Managing agents, Bidwells, said the original 1750s hotel would be retained.
It added that the extension had been designed in a way to avoid causing a visual impact on the landscape.
The hotel, which is owned by Black Corries Estate Management Ltd, is well-known among hillwalkers and climbers.
Plans for a revamp and extension were granted permission by Highland Council last year, but a new design for the extension has since been submitted to Highland Council.
Mountaineering Scotland, which represents the interests of outdoor pursuits enthusiasts, did not object to the original plans.
But it has, along with National Trust for Scotland and John Muir Trust, lodged an objection with Highland Council to the new-look extension.
Mountaineering Scotland's chief executive officer, David Gibson, said: "The Kings House Hotel is located in a part of the National Scenic Area which is recognised for its unique and unrivalled natural heritage, but the proposed development appears as an industrial-style building.
"It is not sympathetic to its surroundings or to the existing historic hotel building."
Mr Gibson added: "Mountaineering Scotland is not against the appropriate development of the Kings House and would support a well-designed extension as proposed in the 2016 application, but the new proposal is most certainly not well-designed or in keeping with its surroundings and we object to it."
'Uneconomically viable'
Bidwells said an assessment by consultants had deemed the new design as not presenting any risk of having a significant impact on the landscape.
The new part of the hotel would be built using material "sympathetic to the landscape", and would also be screened by trees, the firm said.
A spokeswoman for the developers said there was disappointment at the objections lodged.
She said: "We have looked at many options for the redevelopment of the Kings House Hotel.
"Following a financial review of the previous planning application the original design was found to be inefficient, insufficient and uneconomically viable.
"In order for the development to proceed it must meet the minimum requirements of 60 bedrooms under one roof.
"The current plans are best suited to deliver a financially viable proposition to our client who, in a philanthropic manner, is investing over £10m in this development."
The overall project is expected to support more than 40 jobs.