Whales and dolphins gather in large numbers in Dunnet Bay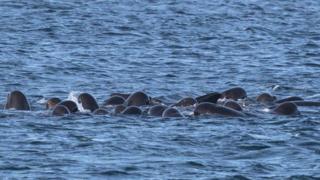 Large numbers of dolphins and small whales have been spotted close to shore in a Caithness bay.
Wildlife photographer Karen Munro estimated that there were as many as 40 pilot whales and more than 10 Risso's dolphins swimming together in Dunnet Bay, near Thurso, on Thursday.

She said she was concerned some of the animals were at risk of stranding because they were so close to the shore.
Ms Munro said: "We are hoping they were in the bay to feed."
There was no sign of the animals on early Friday morning.

The nature photographer urged anyone who spots a stranded whale or dolphin to contact British Divers Marine Life Rescue.
Risso's dolphins can be seen in groups of up 50 animals, but larger schools of as many as 4,000 have been recorded, according to Whale and Dolphin Conservation.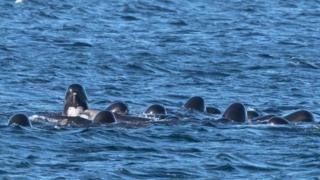 All images are copyrighted to Karen Munro.