Arisaig pupil asks John Swinney for help on teaching shortage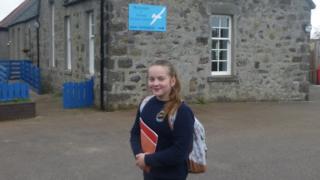 A primary school pupil has written to Education Secretary John Swinney to highlight the teacher shortage at her school.
Poppy Dennis, 11, is in primary seven at 28-pupil Arisaig Primary School in Lochaber.
Her composite class of P4 to 7 has been taught by a series of supply teachers.
Her mum, Valerie Stuart-Orchard, said Poppy saw her parents' frustration at the situation and asked who she could write to "at the top" of education.
Mr Swinney has responded to Poppy's letter. He told BBC Scotland: "It is a tremendous school to be able to take forward a career for a teacher in a beautiful part of Scotland."
Poppy wrote her letter, which starts "Dear Mr Swinney, Can you help me?", last Friday.
In her letter, she said she has not been "learning anything" and that she and her fellow pupils are "very concerned" about their situation.
The school's local authority, Highland Council, said parents had been informed by letter on Monday this week that a permanent teaching post will be advertised for the school.
Arisaig Primary has a teacher for primaries one to three and one for P4-7.
However, Poppy's mother and father, Jonny, were increasingly concerned by the senior classes being taught by supply teachers, and not a dedicated class teacher.
'Her own words'
Ms Stuart-Orchard said: "Poppy did have an excellent teacher but she was moved to cover the primaries one to three, while a series of supply teachers have taught her group.
"Poppy will be moving on to high school and we want her to be fully prepared for that."
Poppy's parents have written to Highland Council on the matter.
"Poppy could see our frustration about the situation and she asked: 'What can I do? I want to write to someone. Who is at the top?'," said Ms Stuart-Orchard.
She added: "We replied: 'Well, that would be John Swinney'. Poppy then wrote the letter. It was all her idea and her own words."
In a statement, Highland Council said it is trying to find a permanent teacher.
The local authority said: "In the interim a sustainable and stable staffing arrangement has been put in place at the school.
"In Highland we continue to face challenges in recruiting teaching staff.
"There are currently 20 primary teacher vacancies, including Additional Support Need posts.
"To help address this Highland Council is involved in two schemes to increase the local supply of teachers."
The schemes include a Distance Learning Post-Graduate Primary qualification in partnership with the University of Aberdeen.
Mr Swinney said the Scottish government was investing heavily in teacher recruitment, and creating new routes for people to get into teaching.
He said: "It is important that in every part of the country every young person has access to quality education."
The education secretary added that he was aware Highland Council was seeking to fill the vacancy at Arisaig Primary.