Inverness police control room expected to close in January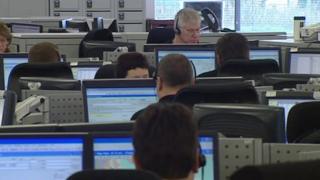 Police Scotland's control room and service centre in Inverness could close in early January next year.
The Scottish Police Authority board agreed to the potential closure going ahead following a consultation with staff.
Highland Council has raised concerns about the risk of local knowledge being lost.
A meeting of the board in Inverness heard the changes in Inverness could happen early next year.
Police Scotland has been planning the closure and transfer of functions to Dundee since last year.
A control room in Aberdeen closed earlier this year and its functions were moved to Dundee.
The closure had previously been delayed by Her Majesty's Inspector of Constabulary, who highlighted shortcomings in call handling after police took three days to respond to a fatal crash near Stirling in 2015.
The board also agreed that a separate project to create a new National Database Enquiry Unit (NDEU) could potentially go ahead, again following consultation with staff in Inverness.
The unit would be based in Inverness and also Govan in Glasgow.
Return to duties
Its staff will support operational policing by carrying out "live time" database checks for frontline officers across Scotland 24 hours a day.
Up to 2,200 such enquiries are conducted every day in Scotland, according to police.
If the NDEU is approved, Police Scotland said 28 permanent staff posts will be retained in Inverness with every member of police staff affected by the closure of the city's control room and service centre closures offered a job in the new unit.
In addition, 14 police officers currently deployed within Inverness' control room will return to operational duties in Highlands and Islands Division.
However, Highland Council had expected that changes to the police's presence in Inverness would lead to more jobs than planned for the region.
Following the meeting, councillor Matthew Reiss said on behalf of the local authority: "We are naturally deeply disappointed by the decisions today to close the Inverness control room and to spread the National Database Enquiry Unit between Inverness and Govan.
"The staff in the Inverness control room are extremely dedicated, skilled and experienced, and have served the Highlands and Islands well over many years.
"At least these decisions offer some certainty about their future and some hope and opportunities in terms of a new role in the National Database Enquiry Unit."
He added that the council was disappointed that more jobs were not being created.