Jail for rapist who filmed sex attacks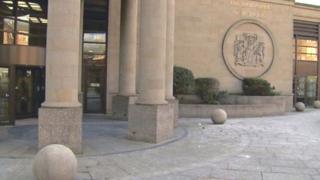 A man who filmed his rape and abuse of a vulnerable woman while she was intoxicated, asleep or unconscious has been jailed for nine years.
Fisherman Marc Ronald, 45, of Dunvegan, Skye, denied raping and sexually assaulting the woman at addresses in Orkney and near Dingwall.
A judge described his behaviour as "degrading and humiliating".
At the High Court in Edinburgh, he was convicted him of two rapes and three charges of sexual assault.
Sentencing Ronald, judge Lord Pentland said the woman was treated as "a mere sexual object".
Lord Pentland discharged jurors who viewed the fishing boat skipper's films during the trial from further jury service for 15 years.
Ronald denied raping and sexually assaulting the woman between 4 March 2011 and 7 February 2013 while she was intoxicated, asleep and incapable of giving or withholding consent.
He maintained that they were engaged in consensual sexual role-playing. But the jury rejected his claims.
Lord Pentland said the victim deserved great credit for her bravery and determination in seeing her abuser brought to justice.
She had found videos of his attacks on his laptop, which she managed to access using his password - which was the name of the fishing boat he skippered.
Ronald was placed on the sex offenders' register.