Design of Nato missile training a first for Europe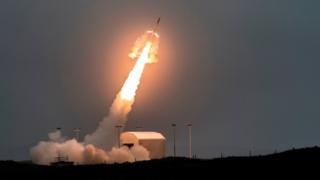 Nato warships taking part in training off Scotland are defending themselves against incoming missiles fired with no prior warning given to the crews.
Nato said this was the first time this had been done in Europe.
Surveillance aircraft are monitoring the live-fire training during exercise Formidable Shield, which is being led by the US 6th Fleet.
Formidable Shield is focused on the Hebrides Range, an area of sea used for missile tests.
Sites in Uist in the Western Isles and on Hirta, the main island in the St Kilda archipelago, which lies about 40 miles (64km) west of North Uist, form part of the range.
Formidable Shield, a new exercise, follows Nato's decision in 2010 to develop a capability to defend its European members from ballistic missile threats.
Fourteen ships, 10 aircraft and about 3,300 personnel are involved from the UK. The US, Canada, France, Germany, Italy, the Netherlands and Spain are also taking part in the exercise.
Military contractor QinetiQ, which operates the Hebrides Range, is supporting the training which involves using defence systems to detect and track ballistic missiles and anti-ship weapons.
QinetiQ has described Formidable Shield as "one of the most sophisticated and complex of its type ever undertaken in the UK".
Nato said: "Formidable Shield will see Allied ships detecting, tracking and defending against a range of anti-ship and ballistic missiles using Nato command and control procedures.
"The live-fire naval exercise will be the first time in Europe that Allies practice defending against incoming ballistic missiles with no prior warning.
"Maritime patrol aircraft and Nato Awacs surveillance aircraft will provide aerial over-watch and ensure that the airspace is clear."
For periods of time during the exercise larges areas of airspace off west Scotland and out into the Atlantic will be restricted.
The UK Civil Aviation Authority is working with European air traffic control coordination body, Eurocontrol, to ensure airline flight plans are routed around the exercise area.
Commercial and private pilots are being notified of when restrictions will be in place.
Part of Formidable Shield will overlap with Joint Warrior, a major Nato exercise held twice a year off Scotland.