Decision due on future of Inverness police control room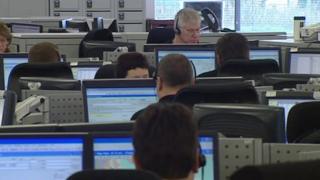 The Scottish Police Authority is to be asked to approve a proposal to close Inverness' police control room at a meeting in the city on Thursday.
Under Police Scotland's plan, the functions of the control room would be transferred to Area Control Room North in Dundee.
The board will also be asked to consider a separate project to create a new National Database Enquiry Unit.
The unit would be based in Inverness and also Govan in Glasgow.
Its staff will support operational policing by carrying out "live time" database checks for frontline officers across Scotland 24 hours a day.
Up to 2,200 such enquiries are conducted every day in Scotland, according to police.
If the National Database Enquiry Unit (NDEU) is approved, Police Scotland said 28 permanent staff posts will be retained in Inverness with every member of police staff affected by the closure of the city's control room and service centre closures offered a job in the new unit.
In addition, 14 police officers currently deployed within Inverness' control room will return to operational duties in Highlands and Islands Division.
Ass Ch Con John Hawkins said: "Every member of staff affected will be offered a position within the newly-created NDEU, ensuring we retain our skilled and experienced staff who will work alongside colleagues already undertaking this role in Glasgow.
"If approved by the SPA board, these proposals will provide even greater resilience in the 999 and 101 call-handling service we provide to the public.
"For the first time since the creation of Police Scotland, the whole country will be covered by a single police command and control system making it easier for us to respond to critical and major incidents."
Police Scotland has been planning the move since last year, with the operations in Inverness being transferred to a site in Dundee.
A control room in Aberdeen closed earlier this year.
Its functions moved to Dundee.
The closure had previously been delayed by Her Majesty's Inspector of Constabulary, who highlighted shortcomings in call handling after police took three days to respond to a fatal crash near Stirling in 2015.
A similar transfer of command and control responsibilities in Aberdeen was completed in early April.