Wheels factory's impact on Inverlochy battlefield studied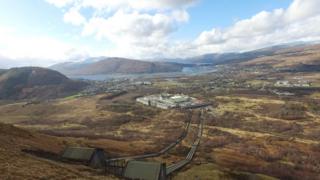 The developers of a planned alloy car wheels factory have commissioned an investigation of what impact the project may have on a battlefield.
GFG Alliance plans to build the factory as part of an expansion of its Lochaber Smelter near Fort William.
Historic Environment Scotland said the project could have an impact on the site of the two battles of Inverlochy, which were fought in 1431 and 1645.
GFG Alliance said it was aware of the concern.
A spokesman said the company had commissioned a "professional assessment" in line with a recommendation made by Highland Council.
He said the study aimed to establish whether or not there might be any risk.
If a threat to the site was identified "appropriate mitigation measures" would be added to a planning application for the factory, which GFG Alliance hopes submit in November.
The spokesman said: "This is a normal part of the consultation process and we will be discussing this fully with all parties involved."
Historic Environment Scotland said: "The proposed area lies within the sites of two designated battlefields at Inverlochy, both of which have been placed on the Inventory of Historic Battlefields due to their national significance.
"We fully recognise the potential economic boost that this expansion of industrial facilities could make to the area however because of the importance of the designated sites, we advised that the developer should undertake some exploratory work to further inform their proposals, and welcome their decision to conduct an impact assessment."