Joy division: Rankin on splitting time between Edinburgh and Highlands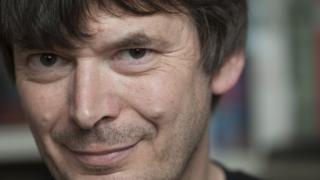 Author Ian Rankin is to appear at the final Loopallu festival in Ullapool. So what better chance to catch up with Scottish literature's "frustrated rock star" and quiz him about writing, music and his love of the Highlands?
This month will see the staging of the 13th, and last, Loopallu after the organisers were unable to secure the continued use of the event's site.
Those involved in the festival hope it goes out with a bang with headline acts that include The View, Glasvegas, The Pigeon Detectives and The Vatersay Boys - and the book tent slot filled by Rankin.
The Fife-born, Edinburgh-based writer is famed for his John Rebus detective stories, and also for his love of music which has seen him appear on Desert Island Discs and also write lyrics for a group that rose to prominence in the 1990s.
"I am a frustrated rock star," says Rankin, who in his teens fronted a short-lived punk rock band. "I'd love to be playing the main stage at Loopallu, no question about it.
"But I had my attempt at music when I was 17-18 and got nowhere," he adds.
"But I will be the only writer at the festival with a top five album," says Rankin, referring to lyrics he wrote for a track for 90s indie band The Charlatans' new album Different Days.
"Through my writing - I write about music and bands in my books and use song lyrics in titles for books - I have still been able to be part of that world.
"I have been able to meet some of my heroes by writing about music," adds Rankin, whose wide-ranging tastes includes the sounds of Jamaican musicians Dave & Ansell Collins, the post-rock tunes of Mogwai, jazz music and the post-punk of Joy Division.
'No TV'
The author is looking forward to his trip to Wester Ross for Loopallu.
"It will be my first time at Loopallu. Sadly it is being held for the last time," he says.
"The great thing about festivals is it is like grazing. You can go round a festival finding bands you know nothing about and enjoying their music."
While it will be his first visit to Loopallu, Rankin is no stranger to Ullapool - Loopallu is the village's name backwards.
"I've been to Ullapool's book festival and have been up on other visits.
"My wife is interested in weaving and textiles and we've often travelled up to Ullapool from a house we have in Cromarty to go to textiles exhibitions."
In Ullapool, Rankin has also been able to slake his thirst for music after stumbling upon a gig in a bar by Martin Stephenson, of folk/rock/pop group Martin Stephenson & The Daintees.
Cromarty, a village on the Black Isle and about an hour and half's drive from Ullapool, provides an important base for Rankin.
"In the house there is no mobile reception and no TV," he says. "So it is somewhere I can get peace and quiet to write the early stages of a book.
"I can get the first 100 pages written there. Once I have got those written I know I can go back to the city and finish the book.
"Also in Cromarty, if I'm struggling to write, I can just go out and have a walk along the sea front and collect my thoughts."
'Dodgy suspect'
Rankin's stories are filled with references to the Highlands. They include Rebus' daughter living in Tongue on Sutherland's north coast.
"People asked me to put the Black Isle in one of my books," he says.
"So, I did. I had a murderer who came from the Black Isle.
"Folk were then asking me why I was so horrible to the place. You can't please everyone," he adds with tongue firmly in cheek.
"I'm not sure how friendly the reception will be for me at Loopallu," he adds.
"I had Rebus go up to Ullapool to interview a dodgy suspect."
The last Loopallu is being held on 29 and 30 September.