Sky lit up by aurora after 'strongest flare in decades'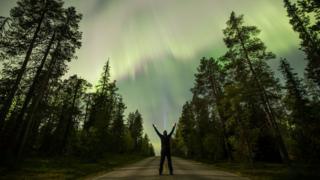 Stunning displays of the aurora borealis that were visible from parts of the UK overnight were associated by historic activity on the sun.
British Geological Survey's (BGS) space weather unit said an X-ray solar flare that erupted from the sun on Wednesday was the strongest in a decade.
BGS said it also ranked among the top 15 flares since the 1970s.
The flare was associated with other activity, including a coronal mass ejection, which resulted in the aurora.
Overnight, Lancaster University's AuroraWatch UK issued a red alert, its highest, for displays of the Northern Lights for a period of three hours.
From Scotland, the aurora was visible from large parts of the east coast, including from Edinburgh, Cupar, Dundee and Fochabers, and was also photographed in the west from places like Oban, Glasgow and Loch Lomond.
Sightings of the Northern Lights were also made from northern England and Northern Ireland.
But the most powerful displays were observed in the far north, including Lapland, Finland.
Where skies are clear, further displays are expected to be visible from parts of the UK on Friday.
BGS and AuroraWatch UK are among organisations that offer alerts giving advance warnings of the aurora.