Highland Council apologises for burial delays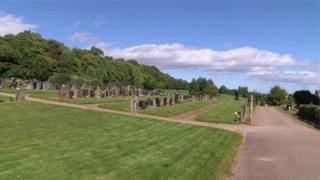 A Scottish local authority has apologised for delays that had affected some burials in its area.
Highland Council's policy is to carry out burials within seven working days.
However, it said staffing of its Inverness burial squad had been affected by illness and workers being on leave, leading to delays.
The council said it had liaised with funeral directors and wished to apologise to families affected. The service has returned to normal.
The delays saw grieving families waiting longer than the expected seven working days to bury loved ones.
'Very sympathetic'
Highland Council's director of community services, William Gilfillan, said that "on the whole" the policy on burials was met.
He said: "There are numerous reasons why delays may occur.
"These include family requests, availability of advertising space and funeral director requirements.
"However, due to staff illness and holidays in the Inverness burial squad over the past few weeks it has not always been possible to carry out all burials within seven working days.
"In such cases we have liaised closely with the funeral directors and are very sympathetic to the families at this difficult time."
Mr Gilfillan added: "Please be assured that the service is now back to normal and our sincere apologies to anyone who has been affected by these temporary delays."